SecureCard by Cornerstone Bank is a NEW mobile phone app integrated with our convenient mobile banking app that allows you to take control of your debit card with the following features:
Turning your debit card "on" and "off" 
Monitoring your debit card transactions
Setting spending preferences and limits
Managing debit card alerts
And so much more!
With SecureCard you'll always know exactly what's happening with your money, and you can watch for suspicious activity. It's a free service for our customers.
NOTICE: If you currently use the CardValet app, that app will no longer be active after December 31, 2020. To continue to manage your debit card through your mobile device, log into your mobile banking app, click on "My Cards" under the quick links and follow the instructions to download the new SecureCard app and transfer your current CardValet settings over.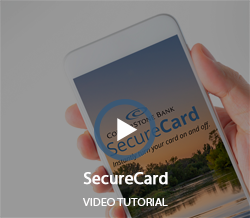 SecureCard FAQs
Q: What is SecureCard?
A: SecureCard is a debit card management tool that enables cardholders to control when, where and how their debit cards are used. For example, one feature of SecureCard provides the ability to instantly turn your card "On" or "Off" and control card usage instantly through your mobile device.
Q: What types of phones are supported by SecureCard?
A: SecureCard works with the most recent mobile operating software as well as two past generations of Android and iPhone devices.
Q: What type of transactions display in SecureCard?
A: SecureCard only shows the transactions that are performed once a card is registered. It does not show checks, ACH, teller transactions, bill pay transactions, or activity on cards that are not registered. You must login to Cornerstone Bank's Retail Online or mobile banking app to review the full history of all transaction types.
Q: Does SecureCard work for ATM cards?
A: No, SecureCard currently supports debit cards, but not ATM cards
Q: Are Cornerstone Bank credit cards supported with SecureCard?
A: SecureCard currently only supports the Cornerstone Bank debit cards.
Q: Can I enroll directly into the Cornerstone Bank SecureCard app from the app store?
A: Yes. As long as you have either an Online Banking or Mobile Banking profile you will be able to use those same credentials to log in. If you do not have Online Banking or Mobile banking access, you will need to set this up before you can log into SecureCard.     
Q: What information do I need to register my card if it is not pre-loaded in to the SecureCard app?
A: Required Information includes:
Card number
Address
Zip code
Expiration date
CVV/CVC code
Secondary authentication includes:
Security token sent via email
Last 4 digits of the SSN
Q: How many apps will I have on my phone?
A: You will have 2 apps on your phone. One will be your Cornerstone Bank Mobile Banking app and the other will be the Cornerstone Bank SecureCard app. 
Q: If I have debit cards from different banks, can I register all my cards with SecureCard?
A: Only Cornerstone Bank debit cards can be registered in the SecureCard app. 
Use SecureCard with our other fraud and account monitoring services, so you can keep track of your banking whenever and wherever in the palm of your hand!
SecureAlerts – These account alerts allow you to set up and receive alerts on your account your way via push notification, email, or text.
Features: 
Account alerts
Account transactions alerts
Account balance alerts 
And so much more
Text Fraud Alerts – As the name implies these alerts will send a text message anytime there is an unusual account transactionon your accunt that could be fraud.
Features:
Mobile Banking App 
Features
Monitor account balances
Make transfers between accounts
Pay bills
Deposit checks
Set account alerts
Control your debit card